WHAT IS THIS BOOK ABOUT?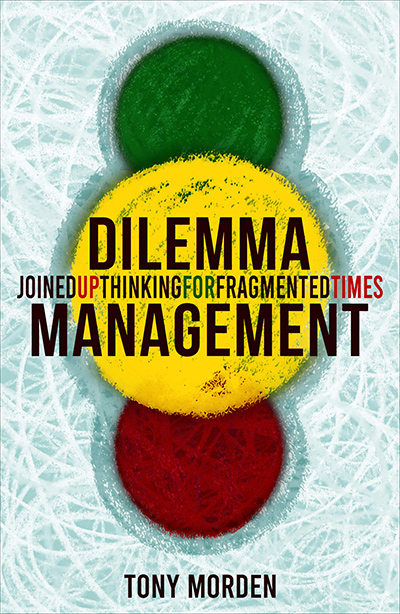 The subject of this Book is the management of dilemmas. The Book defines and describes the process of Dilemma Management. And it illustrates this process with a variety of Case Examples from business, politics, healthcare, procurement, security, sport, and more generally from the taxpayer-funded public sector.
"Dilemma Management" is a harsh work for the harsh and changing times in the UK. The Book has been written to challenge the Reader; maybe even to disconcert him or her. The Author makes absolutely no apology for questioning outdated professional wisdoms or established paradigms, arguing that a large upward step change is urgently needed in professional mindset and competence in the country, for instance in a post-Coronavirus era.
"It is difficult to get a man to understand something when his salary depends on his not understanding it." (Upton Sinclair - US Author)
One of the author's key objectives in writing this Book is to explain and to assert the logic for the implementation and use of a Dilemma Management capability in the critical context of an urgent UK requirement for a significant upward step-change in the professionalisation of leadership, entrepreneurial, managerial, political, public, healthcare, charitable, Third Sector and administrative process.
The author argues that the UK is now a post-Imperial / post-colonial trading nation that has (whether it likes it or not) no choice but to rely on itself to earn its keep. It can (i) no longer take for granted, nor (ii) rely on others (such as the various international sources of borrowed funds; wealthy taxpayers who can easily enough transfer their money and investments abroad, offshore, or to British-controlled tax havens; the European Union; the traditional sources of oil-based wealth; the so-called "special relationship" with the USA (?); or a rapidly globalising China) to assist it or to bail it out from the historical consequences (iii) of unsustainable policies, expenditures or commitments; and (iv) the complicating fact of having lived for so long beyond its means in the pursuit of what are now routinely described as individualistic, consumerist, materialistic, and (v) ultimately non-communitarian, non-neighbourhood, and environmentally unfriendly ends.
The need for this step change is likely to be made all the more critical in a post-Brexit UK scenario characterised (i) by the developing consequences of an obsolescent, and outdated "installed base" of (so-called "elite"?) social class and academic conditioning; (ii) by the inevitable reduction of material, social, cultural, and media expectations or complacency; (iii) by the future need for the making of harsh political, commercial, environmental and economic choices in an increasingly resource-constrained and internationally competitive environment; and in which (iv) there are guaranteed to be (politically significant) losers as well as winners within communities and neighbourhoods; all of this exacerbated (v) by a growing North – South and London-centric divide in the UK.
"There is no such thing as a systemic failure - only a failure of responsibility"
' "Dilemma Management" has proven to be horribly prescient since its publication, for instance in respect of ongoing dilemmas (and lack of compliance) associated with Coronavirus; issues of personal responsibility and social cohesion; the psychologically terrifying Internet and social media corruption of UK Minors; unsustainable expectation and boredom thresholds in the UK; the calamitous shortcomings of the UK media; the failures of Webbist paradigms in the Civil and Public Service; potentially disastrous failures in the fields of CPD, Professionalism and Performance Management; and dilemma issues associated with conflicting or irreconcilable (?) pressures (i) for education, health, social care, and the environment; and (ii) the fragmented behaviour of single-interest / pressure groups in general' (source: recent correspondence).
"Coronavirus? What Coronavirus?"
" What is reasonable behaviour during a Pandemic? Should the rules be properly enforced so that everybody complies? And what are the Capability issues involved (Chapter 28)"
Management Dilemmas can be categorised as real-world decision types that:
• are non-routine, non-programmable, strategic, political or policy-orientated. In this they are likely to be characterised by the issues of Time Span Discretion (level of responsibility or orientation) described in Chapter 21;
• derive from the flow and reality of events as they unfold, or as they may be predicted (forecast) to occur;
• will in some way or other have to be dealt with, however that may be; and also
• may incur cost or a need to allocate scarce resources;
• will require focus on processes of implementation and action as a priority over mere talk, analysis or the exhortation of others to take responsibility;
• may or may not have a convenient or mutually acceptable resolution, if any at all; and
• may prove uncomfortable, challenging or difficult to deal with.
'If you are managing a professional football club, which comes first - the game plan or the players?''
Dealing with Management Dilemmas is likely to require the exercise of:
• appropriate personal and professional capability (defined in this Book as capacity plus willpower); to include
• leadership (however this is defined);
• management competence;
• risk management;
• performance evaluation and management.
Dealing with Management Dilemmas will also require the exercise of personal, group or corporate authority allied to the acceptance of proper accountability and responsibility. Management Dilemmas are at the very least likely to be significant in the scheme of things. Or indeed they may be the norm where for instance financial management, resource allocation, political decision making or processes of performance management are concerned.
'If you are making strategic decisions in an organisation, have you got Henry Mintzberg's "Bases of Strategy Formulation" in the right order for the time and the conditions you currently face?'
Management Dilemmas are defined in this Book, and the reasons for managing them are described in detail in Part One.
The format of this Book is based on clear and sharply focused chapters.
Each chapter has its subject matter and Case Examples by way of illustration. The author has at the same time made every effort to ensure the internal consistency of the entirety of the Book's contents. One of the usability aims of this format is to make it commutable – some chapters may be read in a single or return journey by public transport to and from work.
The author states unequivocally that the construction of this Book is based (i) on the reality of the relevant facts as they are interpreted by him to be, and (ii) irrespective of whether or not this interpretation is likely in any way to be consistent with the Reader's own views.
Next, the author states that the construction of this Book is not based on:
• any use of the processes of "dumbing down", binary thinking, so-called "trendiness" or over-simplification;
• any application of so-called "political correctness";
• any intention whatsoever to avoid the use of long words and complex syntax where required;
• any avoidance of the use and application of necessary or appropriate technical or managerial terms. Thus, for instance, the leadership and functioning of several very large UK Public Service Organisations is clearly characterised by serious failures of operational co-ordination and integration. These organisations can be categorised as being segmented, fragmented and dissociated. See the author's "Principles of Management" for an explanation;
• any reluctance to employ bullet points or check-lists where this will facilitate usability, economy, focus, or reader-friendliness;
This Book has been written in order to meet the following criteria:
Practicality and Professionality – the Book is practically and professionally relevant to real-world contexts and conditions. These conditions are now characterised by the existence of a variety and diversity of major dilemmas (some highly risky or threatening) which cannot be ignored and which have in some way to be dealt with, however that may be.
Relevance and Usefulness – the Book will be relevant and useful to people, whoever they are, wherever they may be, and at whatever stage in their careers that have (or will in the future have) a professional or role-defined responsibility (i) to identify and to understand dilemmas, (ii) to manage such dilemmas (or their consequences) or (iii) to attempt their resolution. Such people will include those in political, elected, leadership, governance, managerial, specialist, advisory or administrative roles. It will also include those responsible for resource allocation, financial management, the taxation of electorates, and so on.
Implementation Orientation – the Book is written to meet practical and professional needs for the implementation of management process and the achievement of whatever results may be obtained from Dilemma Management. Thus, the Book poses such standard questions of the "who", "what", "where", "when" and "how" of the matter. At the same time it deals with such issues as "what is it going to cost?", "who is going to pay?" (or "who is going to subsidise?"), "what is the performance management criteria?" or "will it make any money?"
Capability emphasis - the Book also places a very strong emphasis on capability issues (where capability is defined to equal capacity plus willpower), decision making and leadership. This emphasis will in turn require a focus on issues of responsibility, whether individual or corporate. Thus, there may have to be (i) a rejection of naïve appeals (exhortation) "for someone else (but not me)" to do something, or calls for "the government to act". It will (ii) also imply a refusal to accept any "passing the buck".
Usability – the ISO defines usability as 'the extent to which a product can be used to achieve specified goals with effectiveness, efficiency, and satisfaction in its specified context of use'. Effectiveness may in turn be seen as a function of the appropriateness and cost of the item relative to its purpose and to the time constraints under which the user must operate. Usability may also be defined specifically in terms of the accessibility, fitness for purpose, ease of use, and learnability of any human-made object. In the case of this Book, such ease of use and learnability is relevant to its role in the process of facilitating knowledge development and transfer in applied and practical conditions, at the same time as creating a degree of utility or satisfaction on the part of the Reader. In this sense, a parallel objective for the Book is to create added-value in professional terms.
Resolution issues - the Book accepts the fact that whilst some dilemmas may be resolved, there will be occasions where such a resolution cannot (for whatever reason) be achieved.
'Estimates of fraud in the NHS now exceed £1 billion per year'
Applying for a promotion – Bill (or whatever name or gender you prefer) learns of a promotional opportunity for which he thinks he is qualified. He is tempted, but should he actually apply for the job? Here are some of the components of the dilemma he (as well as his potential new employer) may now have to deal with:
• is he an effective performer in a selection or an interview situation? What evidence of his suitability for the post could he demonstrate?
• would he boost his pension if he got the job (and is this his sole motivation)?
• how clear is the job description? What would be the volume, variety, responsibility and accountability of the work?
• equally importantly, is the job a management or a leadership role? Would the job require him to take on staff supervisory responsibilities, and how well could he demonstrate his ability to handle them? Is he good at treading on eggshells, dealing with the self-opinionated or the inevitable awkward squads, or soothing those who have been passed over for the promotion that he has obtained?
• could he cope with criticism, staff appraisal, performance evaluation (etc)?
• could he actually do the new job (because, in the end, there is only one way of finding out)? Is he a chancer? Would he be found out and got rid of?
• how much additional pressure would be involved in doing the job compared with what he does now?
how can he be sure of that now, before even applying? Could he always keep his cool, especially if being deliberately tested by his superiors to see what he is capable of?
• what would happen to him (and to his career and to his family) if he couldn't handle the pressure (i.e. is there any risk of dismissal, illness, nervous breakdown, family break-up, etc)?
• and critically, does he discuss the application with his family beforehand; does he listen to their concerns; or does he go ahead anyway (even if being appointed will mean moving jobs, house, schools, etc)?
Or do the proverbs encouraging Bill (i) not to jump out of the frying pan into the fire, or (ii) to keep out of the kitchen if he cannot stand the heat come to apply, if he can't know beforehand?
Social Welfare and some Emergency Services? – there is growing evidence that the UK's Police Service, NHS, and School System have become the Emergency Providers of Last Resort in matters of social welfare, nutrition, safeguarding, and care in the community. This may for instance apply to any or all of:
• children who as Minors are legally the responsibility of parents;
'If you are a parent, have you got your children (under 18 and legally Minors) under control and properly safeguarded? If not, why not?'
• people who are suffering from mental health issues in the community;
• the elderly, who may end up in a hospital bed because they have no one to look after them, no resources, and nowhere else to go;
• people suffering from the consequences of drug addiction and substance abuse;
• others who for whatever reason are on the margins of society.
That is, are these services becoming society's "dumping grounds" for those who are seen as unwanted, "weak", marginalised or even "redundant"? What could be done about it? And who is going to pay?
'Sod you. I'm all right, Jack'
The author states that this Book justifies the current and critical need for a Dilemma Management capability in such prevailing circumstances as:
• a history of significant (and costly) failures of leadership, responsibility and accountability in the UK, whether in the management of the affairs of business, finance, media, politics, healthcare, or the civil, public, charitable and Third Sector service (etc); associated with
• a widespread, entrenched, out-dated, and continuing arrogance, complacency and amateurism in matters of the responsibility for leadership and management process (eg: "it's all really a game or a joke");
• entrenched, out-dated and continuing arrogance, complacency and amateurism in matters of financial prudence and management, public taxation and taxation policy, exacerbated by an ongoing failure to assure an efficient provision of taxpayer value; associated with
• the potentially unsustainable expenditure of enormous sums of public (taxpayer plus borrowed) money by governments; by institutions such as the UK National Health Service (NHS), the military and security services, by benefit, charitable and social care agencies; also by sub-contracted companies (for instance Carillion or HS2); etc;
• an entirely political, ethical and socially unsustainable level of personal greed at the level of corporate CEOs in respect of bonus payments received;
• an unsustainable development of individualism and consumerism; and
• rapid and potentially highly damaging developments associated with Big Data, the Attention Economy, and social media; and in particular
• the catastrophic impact of such developments on Minors subject to parental authority;
• rapidly increasing needs to manage all manner of diversity and complexity;
• intense domestic and international competition, whether in business, politics, the provision of international aid, or defence (etc);
• major issues that need resolution and decision, such (i) as the UK's post-Brexit programme and the future nature of its international political and trade relations, or (ii) the nature of healthcare, pension and social welfare provision during the years to (say) 2060, or (iii) of the nature of housing provision, or (iv) of the sources of electricity supply, food and the stewardship of the UK countryside in the context of environmental and climate-change concerns, or (v) of the implications of ongoing Artificial Intelligence (AI) developments;
• continuing national and global pressure on people's Human Rights;
• terrorism, hostility, cronyism, corruption, crime, and a continuing risk-laden lack of accountability;
• divided opinion and fragmented sentiment, leading to a state of almost permanent controversy and disagreement (and so-called "rage" or "anxiety"), for instance as represented in (or encouraged by) the behaviour of what has become in some instances an opinionated, hostile, non-responsible and self-serving media or social media; and associated with
• an apparently increasing (and naïve) cultural UK penchant for, or actual displacement activity in finding distraction or refuge in talk and exhortation (windbaggery and gobbery) rather than action; in argument, looking backwards rather than forwards, in entrenched opinionation and complacency; in febrile dialectics, so-called "conversations" and "debate"; in futile and meaningless analysis-paralysis; and in prevarication, obfuscation and "passing the buck"; as compared with
• again, the urgent need to accept personal, collective and corporate accountability and responsibility for proper process, behaviour, leadership, decision, enterprise, safeguarding, implementation, cost-management, taxpayer value, and action (etc).
'What does the term "U-Turn" mean?'
The author makes no apology for describing and categorising the following as artificial, created and unnecessary dilemmas. These dilemmas have to be dealt with, wasting precious time, energy, goodwill and resources. They may also be risk-laden. The management of such dilemmas also constitutes an significant example of the value loss described in the Book. These artificial and unnecessary dilemmas include:
• personal and professional complacency, amateurism, obsolescence, or laziness;
• serious performance management failures;
• bad science, in any form;
• binary thinking;
• denial of reality, whether for instance by the media, politicians, organisations or pressure groups;
• so-called "Political Correctness" – which in reality is a destructive form of opinionation;
• excessive individualism, narcissicism, self-indulgence and cynicism;
• the creation or promulgation of artificial and unnecessary emotion, division, "rage" and / or anxiety;
• concepts of so-called "celebrity";
'Are you obsessed with (so-called) "Celebrity" or "Superstar Culture"? If so, why?'
•
any failure to identify and to accept the personal, collective or corporate accountability described in this Website. This constitutes irresponsibility; and may be associated with
• blame / "pass the buck" cultures in which everything is always somebody else's fault;
and / or
• so-called "systemic failures" in which no-one is prepared to accept responsibility. In reality
there is no such thing as a "systemic failure";
• journalistic or social media opinionation, "spin" and so-called "fake news";
• trendiness for its own sake unrelated to facts and circumstances as they stand, but used to enrich somebody or other at the expense of others.
PREFACE – WHAT THIS BOOK IS ABOUT
INTRODUCTION - THE LOGIC FOR THIS BOOK
PART ONE – WHAT ARE DILEMMAS, AND WHY MANAGE THEM?
CHAPTER 1: MANAGEMENT DILEMMAS DEFINED
CHAPTER 2: SOME REAL-WORLD MANAGEMENT DILEMMAS
CHAPTER 3: WHY MANAGE DILEMMAS?
PART TWO – SOME DILEMMA SOURCES (I): BIG PICTURES, PEOPLE AND CULTURE
CHAPTER 4: A BIG PICTURE, AND SOME DETAIL
CHAPTER 5: THE ATTENTION ECONOMY AND A SOCIAL MEDIA HORROR SHOW
CHAPTER 6: NATIONAL CULTURE, CROSS-CULTURAL AND TRANSCULTURAL VARIABLES
CHAPTER 7: COGNITIVE CONSONANCE AND COGNITIVE DISSONANCE
CHAPTER 8: OPINIONS, OPINIONATION AND "POLITICAL CORRECTNESS" (SO-CALLED)
CHAPTER 9: PERCEPTION AND SEMIOSPHERES
CHAPTER 10: INDIVIDUALISM AND PERSONAL RESPONSIBILITY
CHAPTER 11: STATUS
CHAPTER 12: THE SNOWFLAKE GENERATION
PART THREE – SOME DILEMMA SOURCES (II): TIME, FINANCE, SECURITY, AND RISK
CHAPTER 13: TIME
CHAPTER 14: DILEMMAS OF CORPORATE FINANCIAL MANAGEMENT
CHAPTER 15: DILEMMAS OF GOVERNANCE, FINANCE, NEGATIVE VALUE, AND FAILURE RISK
CHAPTER 16: SECURITY AND SAFEGUARDING
CHAPTER 17: RISK AND UNCERTAINTY MANAGEMENT
CHAPTER 18: CRISIS MANAGEMENT
PART FOUR – A DILEMMA MANAGEMENT PROCESS
CHAPTER 19: UNDERSTANDING AND MAPPING DILEMMAS
CHAPTER 20: DILEMMA MANAGEMENT AND STRATEGY
CHAPTER 21: DILEMMA MANAGEMENT AND LEADERSHIP
CHAPTER 22: MAKING DILEMMA DECISIONS
CHAPTER 23: COMPETITION STRATEGY
CHAPTER 24: PERFORMANCE MANAGEMENT
CHAPTER 25: REASONABLE OR PROPORTIONATE?
CHAPTER 26: A COMMITMENT TO DECISIONS
PART FIVE – ENDGAME: SOME FINAL DILEMMA MANAGEMENT ISSUES
CHAPTER 27: THE WEBBS, THE "DISINTERESTED EXPERT", HERBERT MORRISON, CORPORATISM, AND THE PUBLIC SERVICE ORGANISATION
CHAPTER 28: CAPABILITY MANAGEMENT
CHAPTER 29: ANOTHER BIG PICTURE
CHAPTER 30: CAUSES OF DILEMMA DECISION-MAKING DELAY
CHAPTER 31: TREADING ON EGGSHELLS?
CHAPTER 32: MUDDLING THROUGH, DILEMMA MANAGEMENT, AND THE PUBLIC SERVICE ORGANISATION
AND FINALLY
INDEX
'Do you understand what the Peter Principle is? If Yes, apply it to yourself and to your colleagues. If No, why do you not understand it?'